The best mattress toppers can transform your existing mattress so that it's comfier and more supportive for your body during sleep – and they're cheaper than splashing out on a new bed. Whether you need more pressure relief, added firmness or an extra layer of pillowy comfort, the right mattress topper will deliver. They come in different sizes and depths too, and while some are basic in design, others are as impressive as an option from our best mattress guide – they'll just cost you less.
This expert guide will help you choose the best mattress topper for your budget. We've included options from lesser known sleep brands as well as household names. All of them have racked up thousands of five-star user reviews between them and are simple and fast to fit. Some can be placed over your mattress like a fitted sheet, while others have elasticated strips that anchor onto the corners of your mattress to keep the bed topper in place.
What's the best mattress topper?
The Tempur-Pedic Tempur Supreme is the best mattress topper money can buy. It uses three-inch thick foam to provide immediate comfort and relief for stiff joints, and has a user rating of 4.6 out of 5 stars, generated from over 4,300 customer reviews. With a starting price of $299 (without a Tempur-Pedic mattress sale offer to lower the cost), it's good value considering the high levels of comfort on offer.
In addition to comfort, the best mattress toppers also provide an extra layer of protection from spills, allergens and bed mites. That said, we'd still recommend investing in the best mattress protector you can afford.
Below we have listed our top picks from well-known brands including Saatva and Eight Sleep (a cooling and heated bed topper). Plus, we look at bed toppers made using different materials such as organic cotton, luxury down and foam. For further sleep bargains, check out our round-up of the best cheap mattress deals. 
The best mattress toppers right now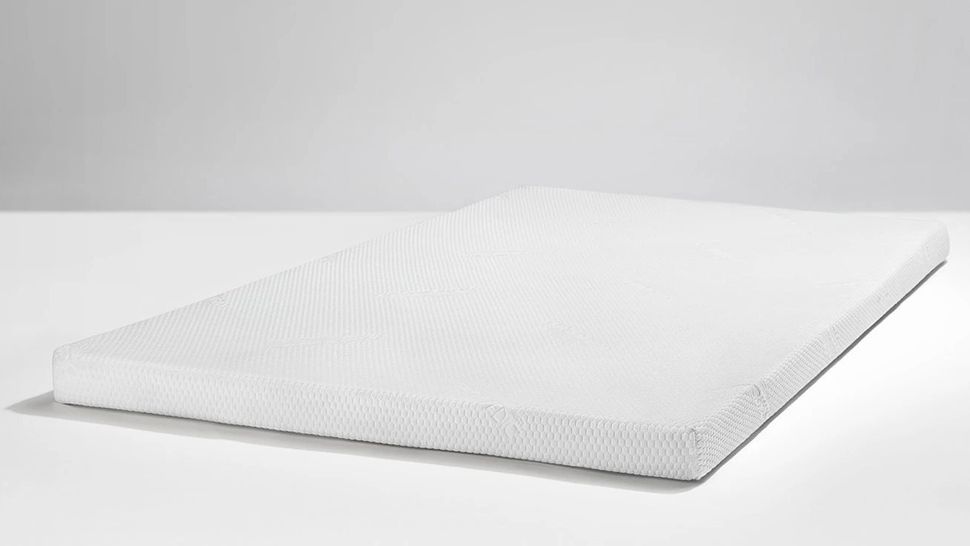 Tempur-Pedic's Tempur Topper Supreme combines comfort, quality, and practicality, making it our top pick for the best mattress topper you can buy today. With a generous three inches of Tempur's proprietary responsive foam, it's a great way to get premium Tempur-Pedic comfort on a budget.
This luxury mattress topper boasts an impressive average score of 4.6 out of 5 from over 4,300 user reviews on the Tempur-Pedic website (as of Sept 2021). A common theme from users is that the Tempur Topper Supreme is a great way to upgrade a tired or unsatisfactory mattress – and it's especially effective for mattresses that are too firm. Many users also comment that it's helped relieve pain when sleeping. 
The Tempur Topper Supreme has a hygienic cover to keep away any nasties – like mold, allergen and dust mite dander – and if you want to clean it, you can whip off the cover and throw it in the washer. Plus, with a 10-year warranty, you'll be able to sleep soundly in the knowledge that your topper should last as long as your mattress. For quality, comfort and price, we think Tempur-Pedic's superb Tempur Topper Supreme is the best mattress topper out there.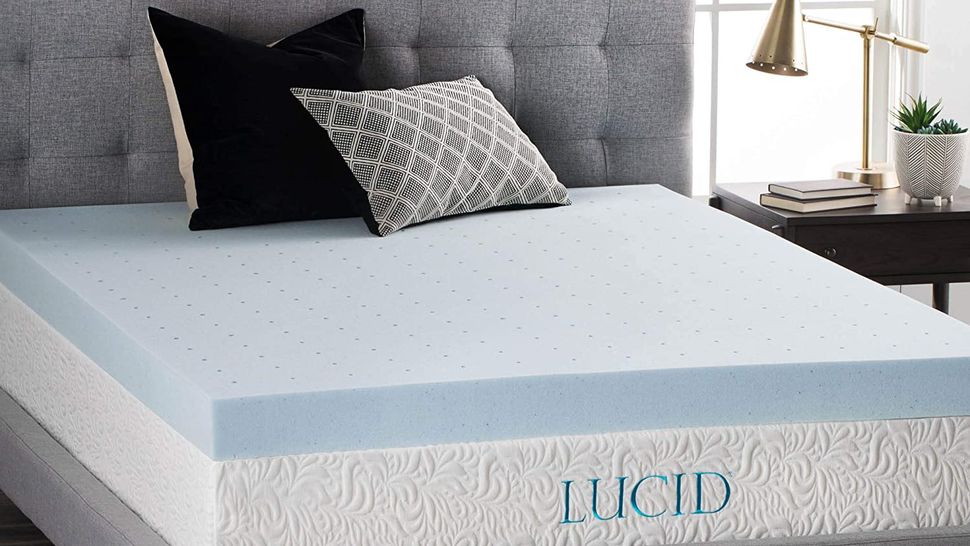 A cheaper option than the luxury Tempur mattress topper above, the Lucid Gel Memory Foam mattress topper is a mid-range model that's well worth considering. Coming in at four inches deep, it's the thickest in our best mattress topper guide, and it's a great choice for adding cushioning comfort to a firm mattress. In fact, if you love the feel of memory foam mattresses, this is a must for you.
The Lucid Gel Memory Foam mattress topper boasts an impressive average Amazon rating of 4.3 out of 5 from over 20,500 user reviews (Jul 2021). Many commend it for the pressure relief it provides, and the vast majority agree that it has improved their current mattresses. 
If you're looking for a firm topper that will give a softer mattress some extra support, this Lucid option probably isn't for you. But if you want to add a layer of luxury comfort without breaking the bank, the vast majority of people should find that this plush, gel-infused memory foam topper is a fantastic choice.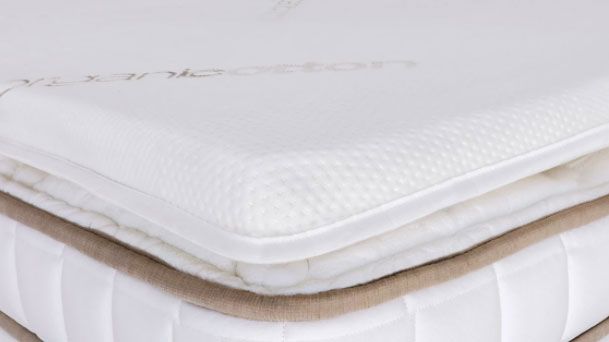 If you read our Saatva Classic mattress review and want all that Saatva luxury and comfort but don't have the budget or need for a new mattress just yet, a Saatva mattress topper is the next best thing. 
There are three different topper materials available – graphite, latex or foam – but we recommend the graphite-infused memory foam version for its cooling properties. The graphite layer is designed to draw heat away from your body, while you also get the contouring, cushioning pressure relief of memory foam. And at three-inches deep, it's twice the thickness of Saatva's other mattress topper products. 
If you'd prefer a thinner option, there are two to choose between. The most premium is Saatva's latex mattress topper. Made from all-natural, renewable materials, this 1.5-inch thick topper is Saatva's most expensive but most durable product, and should easily exceed the expected lifespan of the average topper. Like the graphite, it sleeps fairly cool as well. 
Saatva's most affordable mattress topper, meanwhile, is made from 1.5 inches of high-density foam. It'll contour to your body to help relieve pressure, and because it's all-foam, it provides great motion isolation as well. We love the choice that Saatva offers with its toppers. If you can't justify buying a luxury Saatva mattress, the company's topper is the next best thing.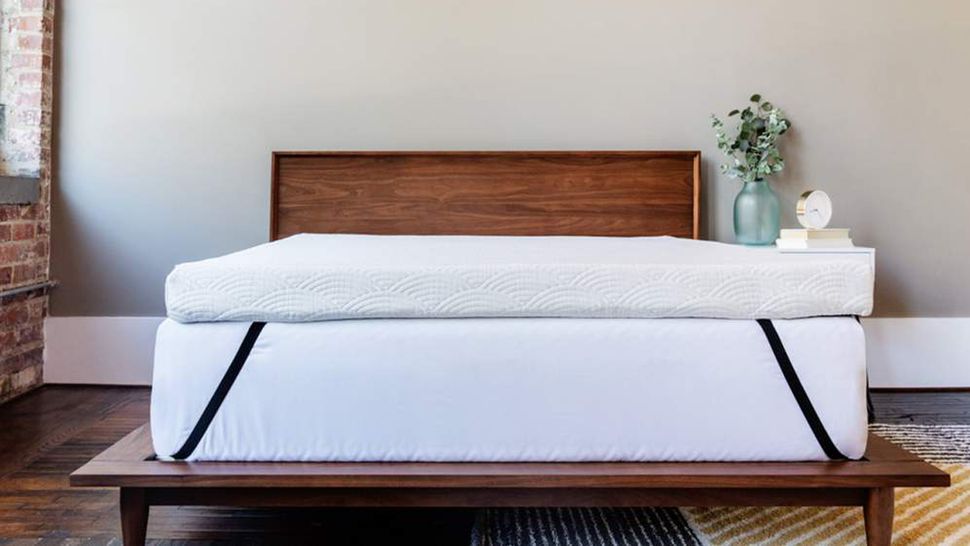 All the mattress toppers in our guide are designed to help prevent you from overheating at night, but if you're particularly prone to the night sweats, the ViscoSoft Active Cooling Copper Topper is worth a look. At four inches deep, it's luxurious – and it comes packed with the latest materials to keep you cool. 
On top, a removable and washable fabric cover deflects moisture. Meanwhile inside, two inches of antimicrobial copper-infused foam help regulate your temperature by transferring heat away from your body, and another two inches of support foam relieve pain from pressure points. 
Users agree that it's excellent. There's a smaller review pool for this topper, but those that have rated it – both on the ViscoSoft site and Amazon – speak highly of its cooling capabilities. Some have claimed it's a little firm, but most people found it just right. It averages 4.7 at ViscoSoft, and 4/5 from over 270 user reviews at Amazon (Jul 2021).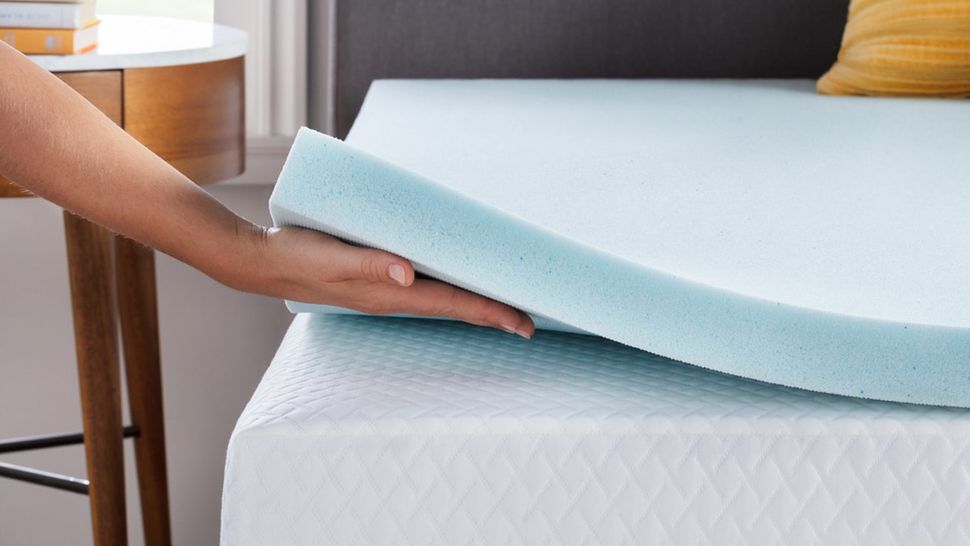 Buyers on a budget need not settle for a second-rate mattress topper – Linenspa's two-inch Gel Memory Foam topper starts at less than $40 and has over 62,000 extremely positive reviews on Amazon, averaging an amazing 4.5 out of 5 (Jul 2021).
It's simple but effective, and two inches is more than enough to provide some extra comfort for a cheaper or older mattresses. (You can also upgrade to three inches for a little more.) However, what we like the most is the gel infusion – these gel beads help cool you down, alleviating one of the biggest issues many people have with memory foam. If you're after a bargain, this cheap and cheerful mattress topper is one of the best around.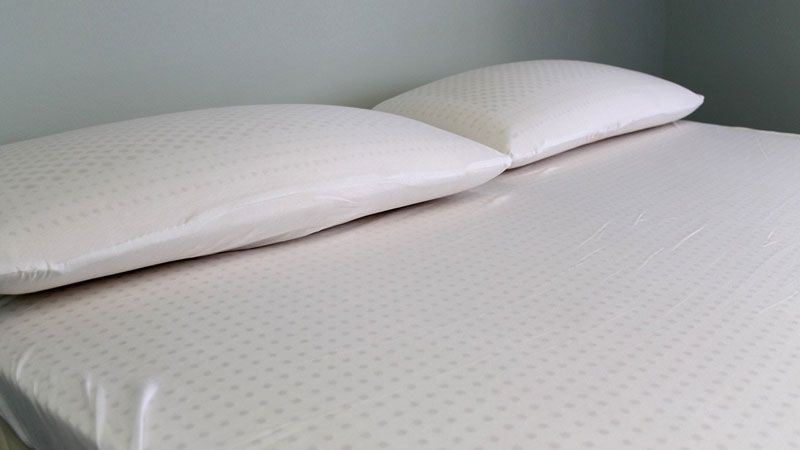 If you frequently find yourself waking up with aches and pains, the Turmerry Organic Latex mattress topper is worth considering. Available in two and three-inch thickness versions, as well as three firmness levels – soft, medium and medium firm – Turmerry mattress toppers are specifically designed to provide pressure relief and support in all the right places.
They're also a top choice for hot sleepers. The organic Dunlop latex is ventilated with lots of small holes to help the air circulate, which helps keep you cool at night. All Turmerry toppers are hypoallergenic, so they're safe choice for anyone with allergies. And they should also appeal to eco-conscious consumers too: the company's manufacturing facility is carbon neutral certified, and the latex used has 100% organic certification. Plus Turmerry plants a tree with every sale, so you're helping the environment in more ways than one. 
The Turmerry website features almost 450 reviews, the majority of which rate its products a full five stars – the general consensus being the toppers are good quality at a great price. And you can't argue with value for money here, with Turmerry's Dunlop latex material outdoing the competition in terms of durability by a minimum of 10 years. 
The free trial period is shorter than other companies listed. However, it's still a significant enough period of time to decide whether you're happy with your purchase. If you suffer from aches and pain while you sleep, or you're looking for a sustainable option, the Turmerry Organic is one of the best mattress toppers around.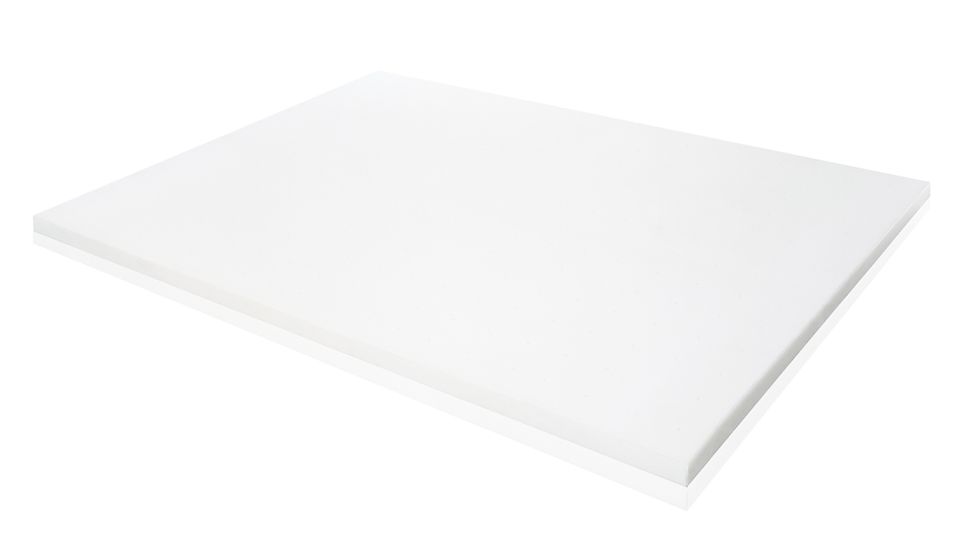 When it comes to transforming a firm mattress into something just that little bit softer, this 2-inch topper by Malouf is simple and effective. And the premium foam contours nicely to your body for plenty of pressure relief, no matter what position you sleep in.
The topper is ventilated with small holes to keep you cool as you sleep, plus it is also hypoallergenic, CertiPUR-US certified and free of harmful chemicals, meaning you can breathe easy all round. It also has a three-year warranty.
While this isn't the cheapest bed topper in our list, it's not the most expensive either. So if you're looking for something premium and cosy that doesn't break your wallet, then the medium plush feel of the Malouf Isolus 2-inch mattress topper will be perfect for you.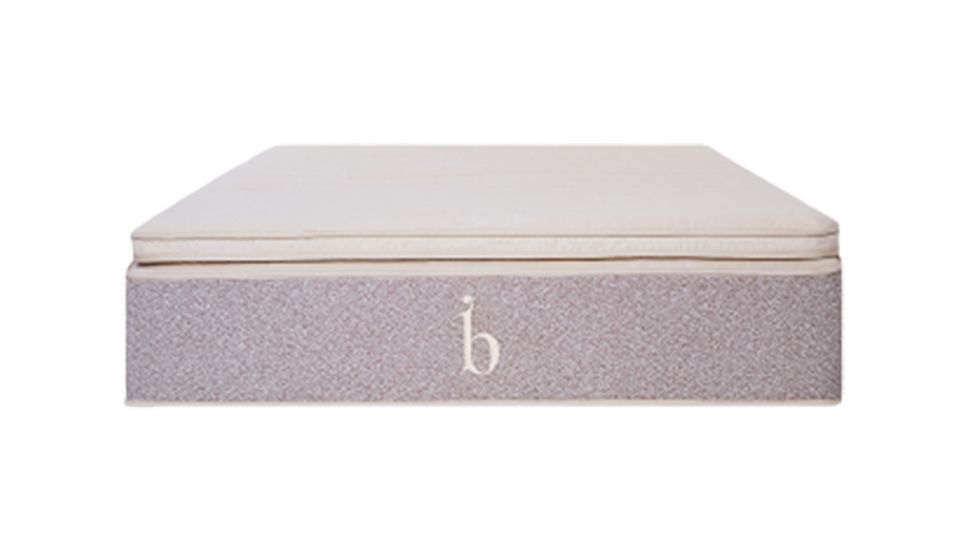 Offering three inches of premium organic materials to rest upon, sweet dreams are guaranteed with Birch's organic cotton, organic wool, and natural latex mattress topper, handmade in the USA. 
The plush pillow top offers incredible comfort, and is also breathable thanks to the natural materials. As you would expect, Birch's bed topper is free of any toxins, and is also GreenGuard Gold and GOTS certified.
The high-quality craftsmanship and materials used in this luxury mattress topper is reflected in the price, and the prices start at $300 for a twin, going up to $550 for a Cal King, but with a ten-year warranty, plus the fact it can transform any existing mattress into something truly luxurious, it could well justify the price – take advantage of the 100-night sleep trial to find out for yourself.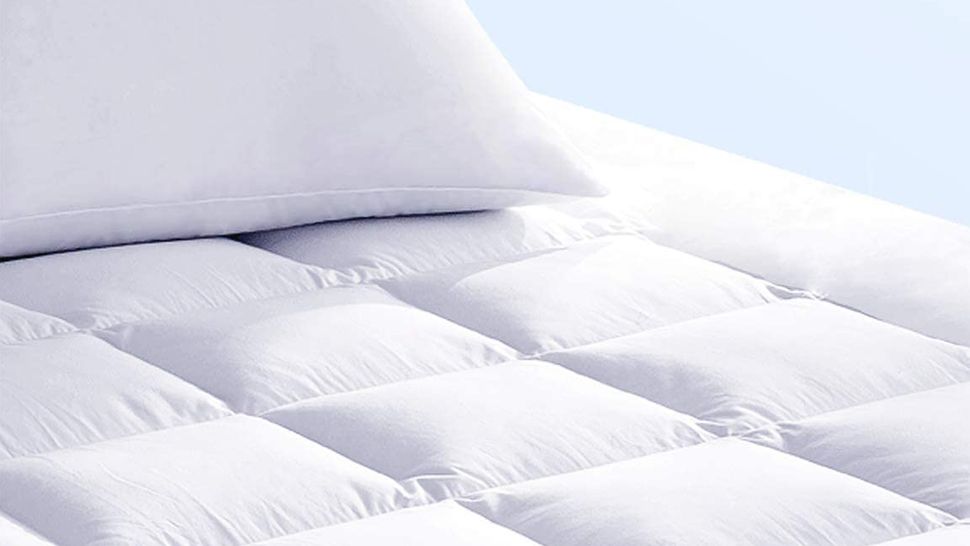 For the budget-conscious just looking for a cheap and effective way of enhancing your current mattress, this Pure Brands topper is one of the best out there. Although it's only two inches thick, its average rating of 4.4/5 from over 10,000 user reviews on Amazon speaks volumes – you don't have to shell out hundreds (or even thousands) of dollars to get the best mattress topper for most people.
Simple in construction, this mattress topper offers a lightweight solution for beds that are too firm, and can provide a good amount of extra comfort and support. Also, users claim that it lasts well, so you should get a good few years of service from this great-value mattress topper.
If you want the sheer luxury of a down mattress topper, but don't want the real thing – perhaps you're avoiding animal-derived materials, or you suffer from allergies – the TCS Down Alternative Featherbed is the perfect alternative. With four inches of TCS's trademark Down-Free filling, you'll get all the plush comfort with none of the downsides.
If you're looking for a firm mattress topper, this won't be right for you. But for sink-right-in comfort it's a perfect choice. However, we'd highly recommend picking up a mattress protector alongside the Featherbed, because you won't be able to wash or dry clean it if it gets dirty.
If money is no object, then there's no reason not to get an Eight Sleep Pod Thermo cover. Eight Sleep's Pod mattress is excellent, and the Thermo cover essentially transforms any old mattress into a state-of-the-art bed right out of a science fiction novel.
With temperature settings ranging from 55-110°F – separately adjustable for both sides of the bed – even if you and your partner have drastically different sleeping styles, you'll be able tailor your experience and rest soundly. You'll also be able to track your sleep with the free app, plus it comes with a 30-day trial, during which you can send it back for a full refund.
The only hitch is that price: starting at $1,695, this is a serious investment, but if you can afford it, there's a lot on offer here.
What is the best mattress topper for 2021?
Right now, the Tempur-Pedic Tempur Supreme tops our list of the best mattress toppers. The three-inch thick luxury foam topper offers a whole lot of comfort, pressure and pain relief at a very reasonable price, starting from $299 for a twin (that's a lot cheaper than buying a full Tempur-Pedic mattress, and there's often a discount too).  
The Tempur topper gets an average of 4.6 out of 5 stars from over 3,500 user reviews, and with a 10-year warranty, you're covered for the long haul. If you're looking to upgrade the comfort of your mattress, this is our top choice.
When is the best time to buy a mattress topper?
Good value mattress topper deals come up regularly throughout the year. Usually at least one of the toppers in our guide will have a discount at any given time.
That said, there are some key periods that tend to offer slightly bigger discounts. In November we see some of the best offers of the year released alongside the Black Friday mattress deals; in February, there are big discounts in the Presidents Day sales; and in May there's always a wide variety of toppers on sale during the Memorial Day mattress sales. We also tend to see decent deals during the summer sales, and in the Labor Day mattress sales in September too.
How do mattress toppers differ from protectors and pads?
This is a common question, but there's an easy way to tell the difference between these three main mattress accessories:
Mattress toppers, also known as bed toppers, are the thickest of the three and are designed to sit right on top of your mattress. They are usually anchored in place by thick straps that go over and under your mattress. You can buy toppers that are up to seven inches deep, and their goal is to make your bed more comfortable for your body. That could be by adding firmer support or quilted top softness, or even dedicated cooling gels to dissipate body heat.
Mattress pads are thinner and therefore make less of an impact than toppers. Some people choose them if they aren't sure whether they need a full bed topper, but keep in mind that mattress pads won't add anywhere near as much comfort as a proper topper will. They are cheaper though and can add a layer of protection to help protect your bed from stains.
Mattress protectors are the thinnest of the three but they play a very important role: they are designed to keep spills, dust, urine, dust mites and pesky bed bugs away from your mattress. We always recommend placing a protector over your mattress topper for maximum hygiene, and to help all of your accessories last longer, giving you more value for money in the long-term.
How thick should my mattress topper be?
Toppers can range in thickness greatly, from just an inch or two to eight inches or more. However, a happy medium for most is around four inches, and those under two inches should probably be avoided.
A thin topper is unlikely to actually provide much extra support or cushioning, and in use you're likely to 'bottom out', meaning your pressure points won't really be feeling any difference compared to your mattress alone.
Those that are too thick, however (especially standard memory foam toppers), will have you sinking deeply into the topper. While some might enjoy this, it can prove problematic when it comes to moving around in bed. You might find yourself feeling a little trapped, and if it doesn't spring back into shape immediately you could also struggle to get comfy when you change position.
While it all depends on your preference and what material you've chosen, we think between two to four inches is the best for a mattress topper.
How do I choose the best mattress topper?
When choosing the best mattress topper, you should consider exactly why you need one. If your current mattress is too soft, you should look for a firm topper that will help give you support and alleviate any sinking you currently experience. For example, the Amerisleep Lift Support is great for this, providing extra support while not being rock-hard. Firm topper are usually preferred by back and front sleepers.
If your mattress is too firm, your options are quite varied, ranging from traditional memory foams to feather down and down alternatives. These will help retain the support your firm mattress provides while adding some plush comfort. This will help you get comfortable easily, and will alleviate hip and shoulder stress if you're a side sleeper.
You might also be looking for a topper to help you stay cool at night. There are a number of options here, but a although many companies claim their toppers help dissipate heat, it's worth reading user reviews to make sure this is true.
Are mattress toppers good for back and hip pain?
They certainly can be. If you're a side sleeper you might find your back and shoulders ache when sleeping on a firm mattress. This may be because your spine isn't properly aligned in bed. A topper can help with this by providing extra depth and support while also taking stress away from your pressure points.
A firm topper can so the same for soft mattresses, and help you stop sinking too deeply into your bed.
What's the best way to care for my mattress topper?
As with most products, it's always best to see what the manufacturer suggests in terms of care. Some are entirely machine-washable, while other can't even be dry cleaned and can only be stop cleaned.
To help prolong the life of any topper, though, we'd recommend using a mattress protector as well. This will stop any soiling or stains damaging your topper, and as a bonus they can help stop the topper sliding off the bed through use.
Which is better: a gel or memory foam topper?
Memory foam toppers dominate the market, and can provide affordable, effective ways or both firming up or softening your current mattress. However, cheaper versions do often suffer from heat retention, which can make some overheat at night.
Gel and gel-infused foams perform much the same as memory foam toppers, but have technologies baked in that help dissipate heat. This is great if you tend to run hot, but many premium foams without gel have other ways of dissipating heat.
Read more: